The 40×80 aluminum profile is an excellent choice for various applications and needs. To gain a better understanding of its characteristics, features, applications, and detailed pricing, let's delve into this article.
Learn more: 20×20 Aluminum Profile
What is 40×80 aluminum profile?
An aluminum profile is created by extruding aluminum through a mold to produce uniform-shaped aluminum bars. The 40×80 aluminum profile is also known as 40×80 aluminum bar, 40×80 square aluminum, industrial aluminum profile, and CNC aluminum profile.
This aluminum profile is characterized by having a width of 40mm and a length of 80mm.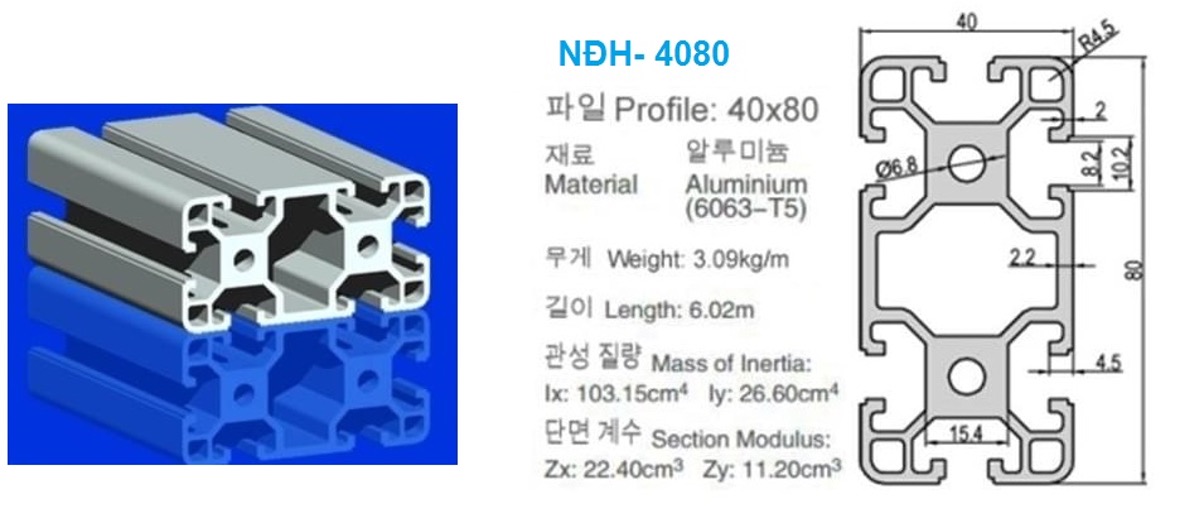 Technical specifications
The 40×80 aluminum profile is well-suited for various industrial applications. It is commonly used in the manufacturing of workbenches, conveyor belts, and workstations.
Product Name: 40×80 Aluminum Profile
Aluminum Profile Grade: 6063 – T5
Surface Finish: White Silver Anodized
Production Technology: Extruded from pure aluminum
The 40×80 aluminum profile specifications currently offered by Stavian are as follows:
Profile Length: 6 meters
Weight: 1.86 kg/m
Overall Dimensions: 40 (height) x 80 (width).
Hole Diameter: Ø7.
Groove Width: 16mm; Groove Mouth Width: 11.8mm.
Groove Bottom Width: 13.2mm; Groove Depth: 12mm.
Aluminum Edge Width: 19.5mm; Aluminum Edge Thickness: 1.5mm.
Learn more: 35+ LED aluminum profile sizes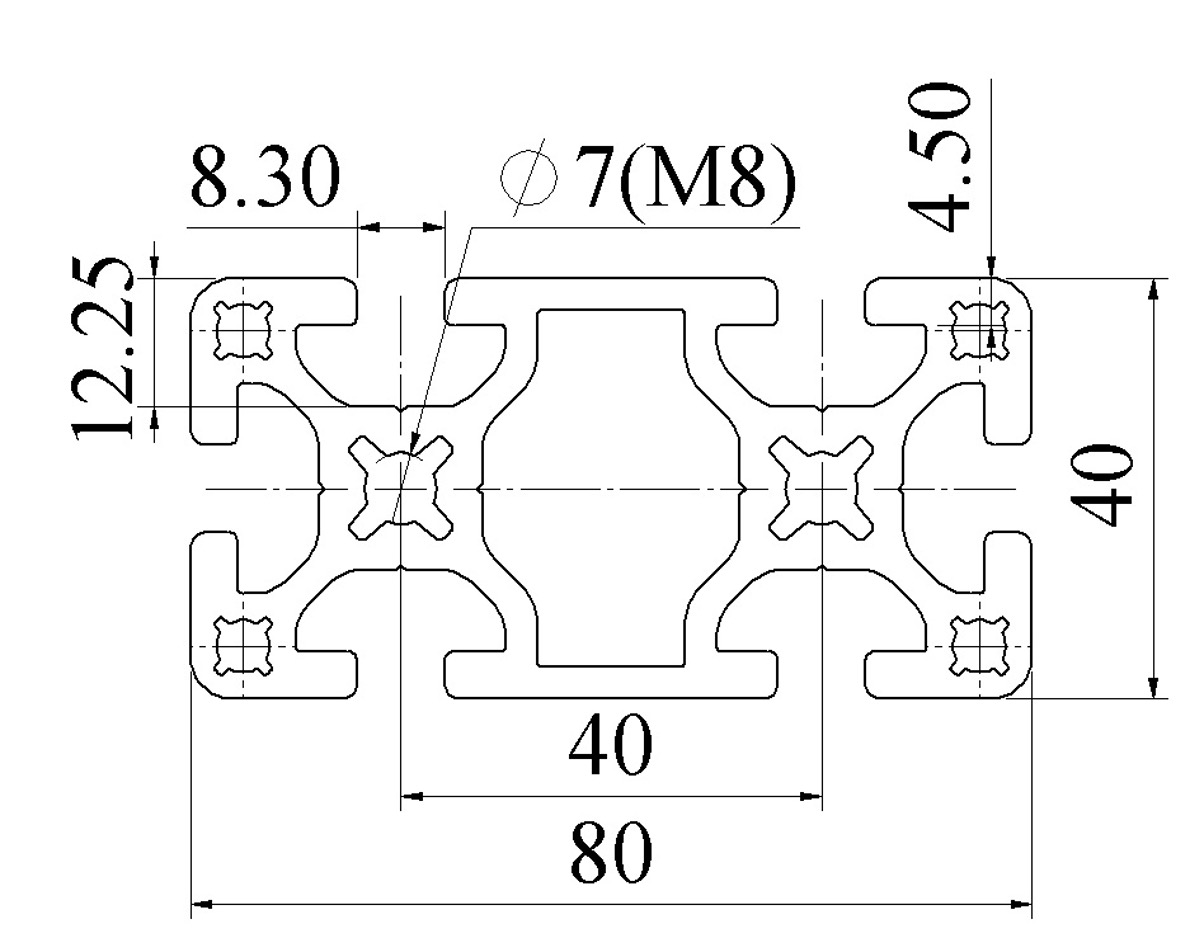 Characteristics of the 40×80 aluminum profile
The primary component of the 40×80 aluminum profiles is aluminum (Aluminium), which constitutes over 98% of the composition, enhancing its durability, impact resistance, and resistance to deformation and oxidation from external factors like acids, cement, and additives.
Color: White Silver. The surface of the aluminum is coated with a layer of electrostatic paint, giving it a smooth, scratch-resistant appearance, enhancing the aesthetics of the product.
A wide range of accompanying aluminum profile accessories is typically available. 40×80 aluminum profiles can be combined with accessories designed for 40×40 and 80×80 profiles.
With its 40×80 mm cross-section, it provides high load-bearing capacity to resist bending.
It is easy to assemble and convenient to pack for transportation.
Reasonable pricing.
High customizability. It can be designed and customized according to specific preferences and needs.
Relevant information

Aluminum Profile Sliders: Characteristics, Applications and Latest Quotation

Detailed guide to Making LED Matrix Aluminum Frame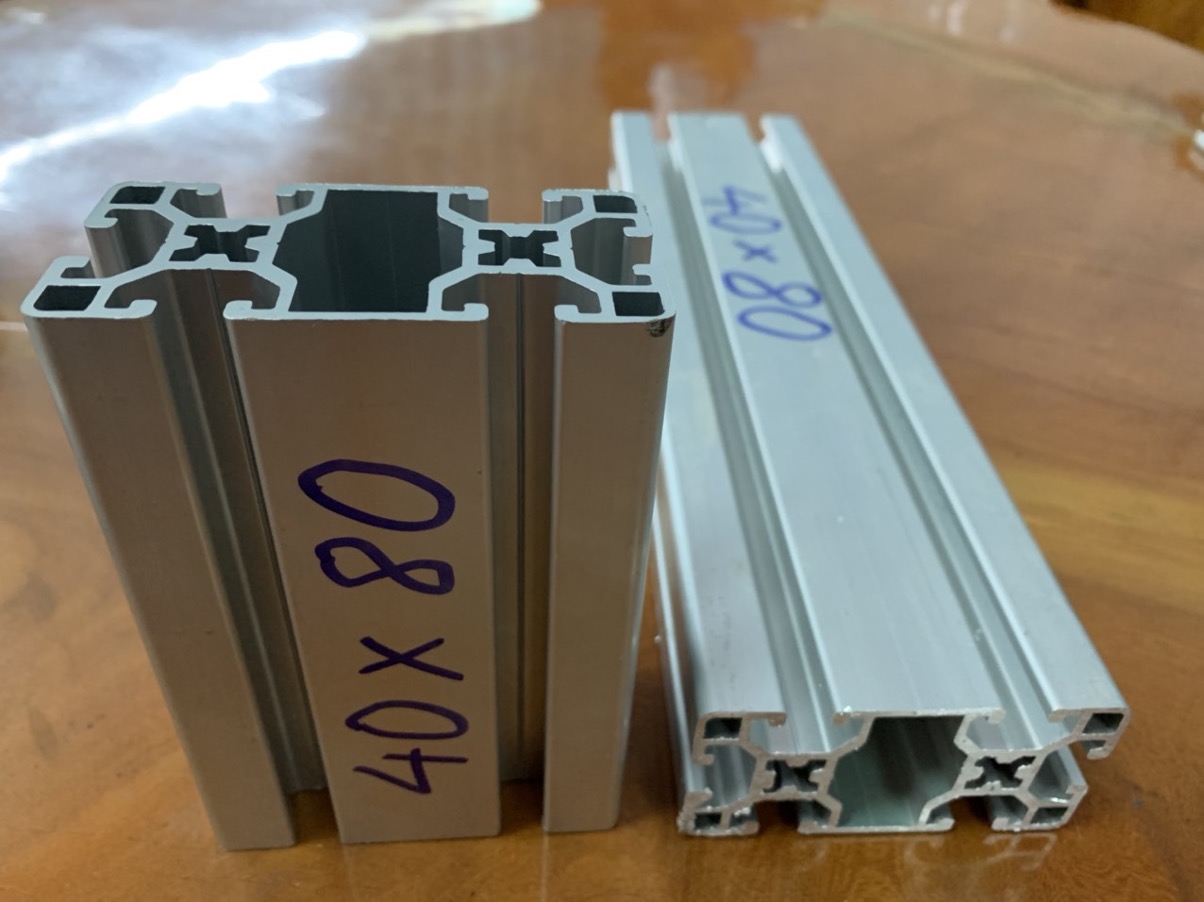 Features of 40×80 aluminum profile
Bright Anodized Finish: The 40×80 aluminum profile is anodized to achieve a glossy surface, enhancing its electrostatic discharge (ESD) protection.
Corrosion Resistance: It can withstand oxidation even in harsh environments.
High Load-Bearing Capacity: This profile is designed to bear heavy loads and remains durable over time.
Flexibility in Assembly: It is versatile and can be easily assembled, allowing for tight connections without the need for welding.
Aesthetic Appeal: The profile's white silver color and smooth finish make it suitable for modern industrial applications.
Applications of 40×80 aluminum profile in daily life
Industrial Usage: Manufacturing CNC machine frames, automated door frame mounting, workbench legs, laboratory workbenches, solar panel frames, conveyor belts for food and pharmaceutical industries, and more.
Construction: Utilized in roofing, walls, staircases, ceilings, glass door frames, partitions, doors, and safety isolation barriers.
Consumer Goods: Employed in the production of tables, shelves, cabinets, chairs, curtain rod supports, and beds.
Accessories for 40×80 aluminum profile
– Recessed corner connectors, new 40×80 aluminum profiles, heavy-duty 40×40 aluminum profiles, heavy-duty 80×80 aluminum profiles, 135-degree aluminum corner connectors, and 80×80 aluminum profiles.
– 3-way aluminum connectors for 40×40 profiles, adjustable 80×80 aluminum profile base, and 135-degree corner connectors.
– Roller wheels for 40×40 aluminum profiles (40M3, 40M4, 40M5, 40M6), roller wheels for 40×40 heavy-duty aluminum profiles (40M6, 40M8).
– T connectors for 40×40 aluminum profiles, plus-shaped connectors, L-shaped connectors.
– Aluminum caps for 40×80 and 40×40 profiles.
– 80×80 aluminum profile conveyor support pillow blocks, 80×80 adjustable connectors, and aluminum profile hinges.
– Stainless steel screws (304 and 204), aluminum profile hinges.
– Aluminum profile connectors for 40×40 profiles and sliding roller connectors.
What is the price of 40×80 aluminum profile?
The price of the 40×80 aluminum profile varies on the market due to different factors such as product quality and location of purchase.
According to market surveys, pricing typically ranges from 150,000 VND to 430,000 VND, depending on the product's quality and the seller's location. If you would like to inquire about specific pricing and product details, you can contact Stavian via their hotline: (+84) 2471001868 / (+84) 975271499 for the most accurate quotation.
Reference: 40×40 Aluminum Profile: What Is It? Price and Technical Specifications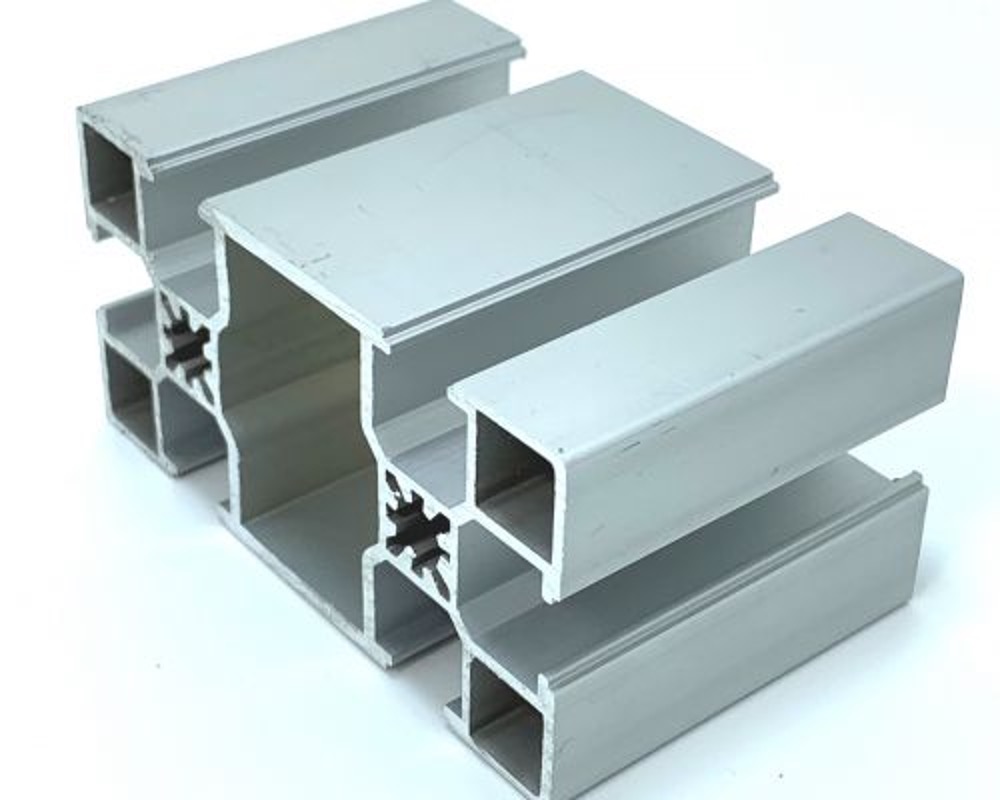 Where to buy high-quality 40×80 aluminum profiles?
As the demand for aluminum profiles continues to rise, numerous suppliers are available in the market.
However, not everyone can easily identify the most reputable source to purchase the highest quality products. Therefore, we would like to recommend the Stavian brand, which is highly regarded for its quality and reasonable pricing in the Vietnamese market.
Stavian is one of the leading providers of 40×80 aluminum profiles and various aluminum profiles in Vietnam. The reasons why customers consistently choose this aluminum profile from Stavian include:
Stringent Quality Control: All aluminum profile products from Stavian Vietnam undergo strict quality checks, ensuring exceptionally high durability.
Diverse Selection: Stavian offers a wide range of aluminum profile designs, catering to various purposes and customer needs.
Affordable Prices: Competitive and reasonable pricing is a hallmark of Stavian's products.
Warranty and Return Policy: Stavian provides meticulous after-sales service with comprehensive warranties and return policies.
Guaranteed Authenticity: Stavian is committed to delivering 100% genuine, high-quality products that meet all customer standards.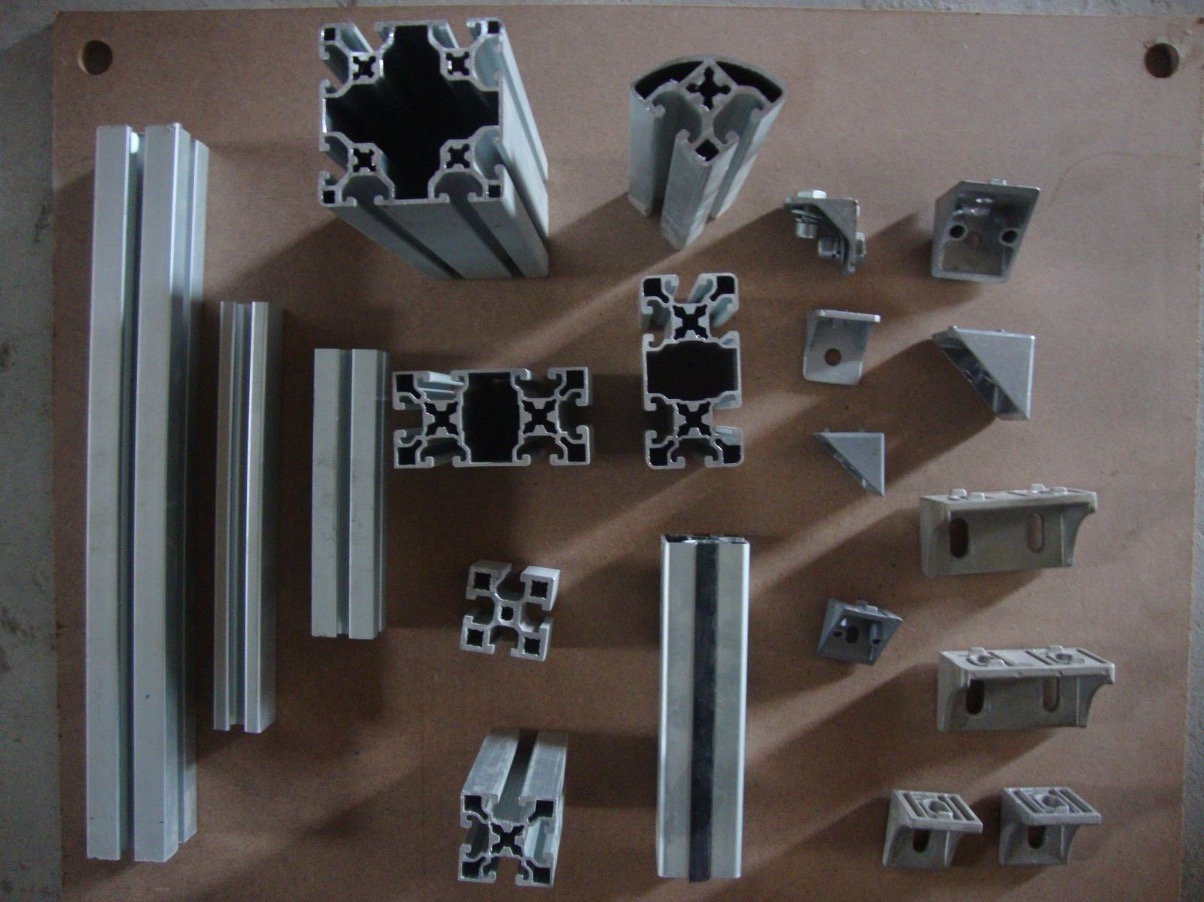 With these advantages, customers can have complete confidence when choosing and purchasing aluminum profiles from Stavian Industrial Metal. Therefore, to receive more detailed information about 40×80 aluminum profiles, including specific pricing, customers can contact us through the following methods: