Do you want to know what iron ore means? Are you interested in iron ore today's price in the most recent trading session? So, in the article below, let's find out with Stavian!
What exactly is iron ore?
Sedimentary rocks contain the majority of the world's iron ore resources. They originated as a result of chemical reactions in fresh and salt water that mixed iron and oxygen. Iron oxides (hematite (Fe2O3) and magnetite (Fe3O4)) are the two most important minerals in these deposits. Hematite is commonly regarded as one of the most important iron ores due to its high-grade iron concentration and abundance. High-quality iron ore, often known as direct shipping ore, contains more than 60% hematite or magnetite.
These iron ores have been mined to make practically every iron and steel product we use today, from paper clips to vehicles to skyscraper steel beams.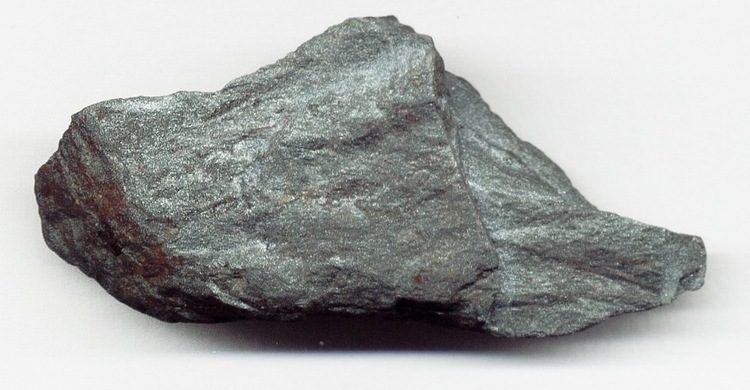 The value of iron ore
The chemical composition, or 'grade,' of a product is an important factor in determining the value of iron ore. A higher iron concentration will often result in a better market value for the ore because iron units are what a steel mill desires.
However, a low amount of deleterious impurities such as silica, alumina, phosphorus, and sulfur, which can decrease productivity and/or steel quality when present in excess, is equally as critical as a high iron content. Impurity levels decrease as iron concentration increases – just changing the proportions that make up the same whole.
What is the purpose of iron ore?
Iron ore, more often known as pig iron, is used to feed the world's iron and steel sectors, which include transportation, building, home goods such as washing machines, and energy and rail infrastructure. It is a fundamental component in the production of steel, on which the vast majority of the world's industrial foundations rely. According to the US Geological Survey, the steel sector utilizes nearly all (98%) of iron ore demand.
The remaining 2% is used by a variety of industries. Radioactive iron, for example, is used as a tracer element in biochemical and metallurgical studies. Powdered iron is utilized in magnets, steel catalysts, and automobile parts. Black iron oxide, on the other hand, is employed as a color in polishing chemicals, medicine, and metallurgy.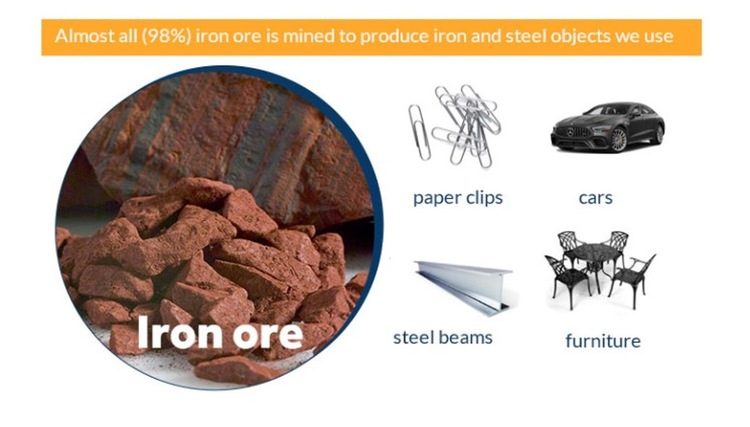 Iron is also frequently combined with other metals to form alloys, particularly wrought iron. Wrought iron is a low carbon content alloy. It is flexible and malleable while being extremely robust, making it ideal for numerous fence, horseshoe, and piping applications.
How to extract iron from iron ores?
Surface mining for iron ore is the most common method, however underground mining is also used at times.
Before being transferred to the steelmaking process, the mined DSO requires just simple crushing and screening.
However, in order to obtain high-quality iron ore powder, low-grade iron ore rock (mostly hematite and magnetite) must be ground and beneficiated. The iron powder is then used to create steel.
Which is more valuable, iron ore lumps or iron ore fines?
To evaluate whether iron ore has a higher value, we must first comprehend the differences between iron ore lumps and fines.
Brief definition of iron ore lumps and fines
Iron ore fines are produced from natural raw iron ore by mining, crushing, and screening, in which the iron ore is separated into lumps and fines. Iron ore is processed in this manner so that it can be used in the iron/steel industry.  When the iron concentration of the processed iron ore exceeds 60%, as is usually the case with lumps, they are sent directly to the plants. Iron ore fines are less desirable because they must be sintered first (to avoid suffocating the air flow in the blast furnace) before they can be used in blast furnaces. 
According to industry standards, iron ore lumps range in size from 6.3 mm to 31.5 mm, whereas iron ore fines are less than 6.3 mm. Information about the IMSBC Code: Iron ore fines contain different amounts of hematite, goethite, and magnetite. Its colors range from dark gray to rusty red to yellow. The bulk density ranges from 1,500 to 3,500 kg/m3. 

The price of iron ore lumps and fines
The 62% Fe sinter fines benchmark is usually referred to as a basic proxy for overall iron ore prices, but most products in the market will fetch different prices based on their specific value-in-use. Furthermore, the price relativities of higher- and lower-grade ores, or of lump or pellet, are very variable as market conditions vary over time. This section digs into the elements that contribute to price fluctuation between different iron ore grades and product kinds.
Global output and iron ore prices
Iron ore prices have been volatile in recent years as the world has coped with the economic uncertainties caused by COVID-19 lockdowns, the Russia-Ukraine war, and growing inflation levels.
Prices for the base metal hit a record high of more than US$220 per metric ton (MT) in May 2021, but they quickly fell to a low of US$84.50 in November of that year. Analysts at the time attributed the price decline in late 2021 to lower demand from China as well as increased supply levels.
Iron ore prices have recovered to trade in the US$120-$130 range in 2023, owing to supply concerns in Australia and Brazil, as well as the Russia-Ukraine war; higher export levies in India and renewed demand from China have also contributed to the commodity's higher prices. The iron ore market's bullish sentiment is predicted to last until 2024.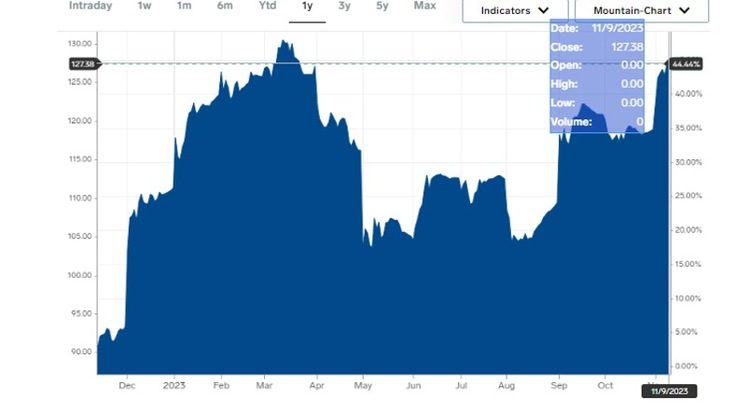 The iron ore today's price 
According to S&P Market Intelligence statistics, the current spot price of iron ore is US$128.07/t as of November 10, 2023.
Top three iron-producing countries
Knowing which nations are key producers will help you comprehend the dynamics of the iron ore market. With that in mind, these are the top three iron-producing countries in 2022, according to the most recent statistics from the US Geological Survey.
No.1 Australia
Australia is the world's largest iron ore mining country, with a usable iron ore output of 880 million MT in 2022. BHP (ASX:BHP,LSE:BHP,NYSE:BHP) is Australia's largest iron ore producer, but Rio Tinto (ASX:RIO,LSE:RIO,NYSE:RIO) and Fortescue Metals Group (ASX:FMG,OTCQX:FSUMF) are also significant producers.
The Pilbara region is Australia's, if not the world's, most significant iron ore jurisdiction. Rio Tinto refers to their Pilbara Blend as "the world's most recognized brand of iron ore."
No. 2 Brazil
Brazil, the world's largest producer, expects usable iron ore production to reach 410 million MT in 2022.
The states of Pará and Minas Gerais have the greatest iron ore districts in the country, accounting for 98 percent of Brazil's yearly iron ore output. Pará is home to the world's largest iron ore mine, Vale's (NYSE:VALE) Carajas mine. Vale is the world's largest manufacturer of iron ore pellets, with headquarters in Rio de Janeiro.
Brazil's output is likely to increase this year. "Brazil and India will lead the supply ramp up in 2023, while Australian shipments will remain largely range bound," said David Cachot, Wood Mackenzie's research director for steel and raw materials. Indeed, Brazilian iron ore exports are expected to increase in 2023.
No.3 China
Despite being the world's third greatest producer of iron ore, China is the world's largest user. Its usable ore production declined by 14 million MT in 2022 compared to the previous year.
China is the world's largest manufacturer of stainless steel, but its domestic production is insufficient to meet demand. The country imports more than 70% of the world's seaborne iron ore.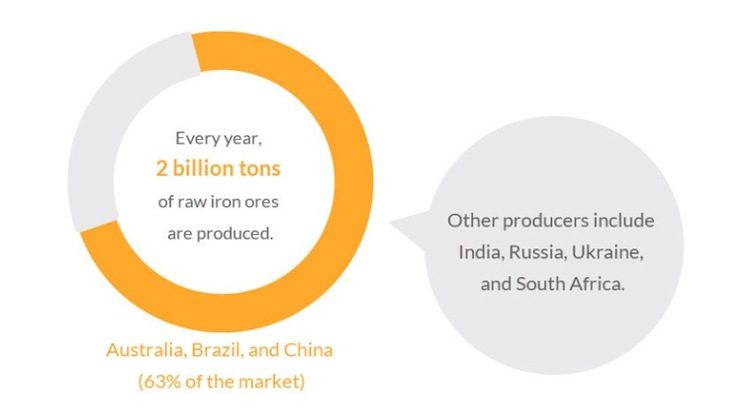 Iron ore Vietnam market
The administration has decided to reduce regulations on iron ore exports. As a result, many communities are racing to obtain export licenses for their enterprises. The volume of this substance sent has reached millions of tons, and some enterprises have even gone above the permitted limit, practically illegally exporting it.
Meanwhile, domestic blast furnace plants are temporarily shut down due to a scarcity of ore raw materials. The export of this raw material has had a direct impact on domestic steel production and is predicted to cause severe financial damage to the national budget.
Many significant manufacturing businesses in Vietnam, like Hoa Phat, are transitioning to magnetite ore with an iron content of more than 63% Fe. If ore must be purchased from international markets, the price of iron ore in Vietnam will be around 2.4 million VND/ton.
The domestic purchasing price of this compound, however, is merely 2-2.3 million VND/ton. The price for limonite ore with lesser iron content, 50% Fe or less, is considerably lower, barely over 1 million VND/ton.
Companies must incur additional costs in order to process this ore into the blast furnace. If allowed to export ore, Vietnamese enterprises receive only 1.3 – 1.4 million VND/ton for ore containing more than 63% Fe. As a result, many ore producing businesses prefer to sell domestically in order to minimize excessive risks and increase profit margins.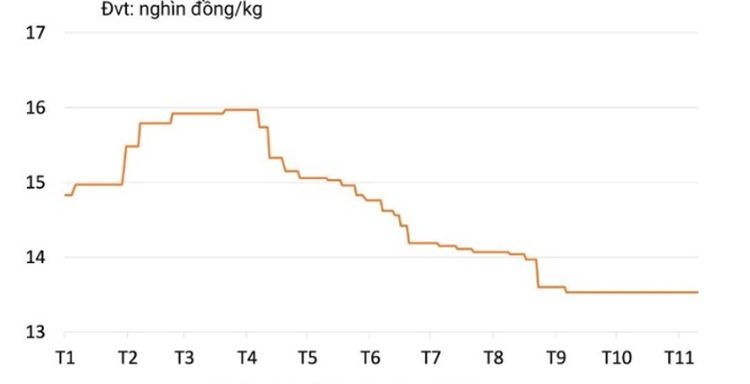 Steel price movements from January 1, 2023 to November 10, 2023 (in thousand VND/kg)
About Stavian Industrial Metal
Iron ore purchasing and delivery facilities are extremely developed in Vietnam's industrial market. So, which facility should you go with? 
The Stavian company is the best option for you.
With over ten years of experience in metal distribution, Stavian is glad to offer the best services at exceptionally competitive pricing. Furthermore, we offer incredibly appealing policies that ensure transparency and credibility.
Conclusion
The article above defines iron ore and provides an overview of the domestic and international iron ore markets. Iron ore prices can be affected by changes in the Vietnamese and global markets. Thus, increasing your knowledge and awareness of these aspects can help you better comprehend the global iron ore market. Thank you for reading!