For those involved in the construction or mechanical industries, H200 section steel is likely a familiar term, but not everyone is well-acquainted with this type of material. Therefore, today Stavian Industrial Metal aims to provide you with detailed information about the H200 steel product, allowing everyone to learn more through the following article.
What is H200 section steel?
The H200 section steel, also commonly referred to as H200 beam or H-shaped steel H200, is a type of steel characterized by its H-shaped cross-section, with nearly equal height and width proportions.
Because of its balanced design, this type of section steel offers excellent stability, exceptional strength, and superior durability. As a result, it is widely favored and used in the main structures of construction projects.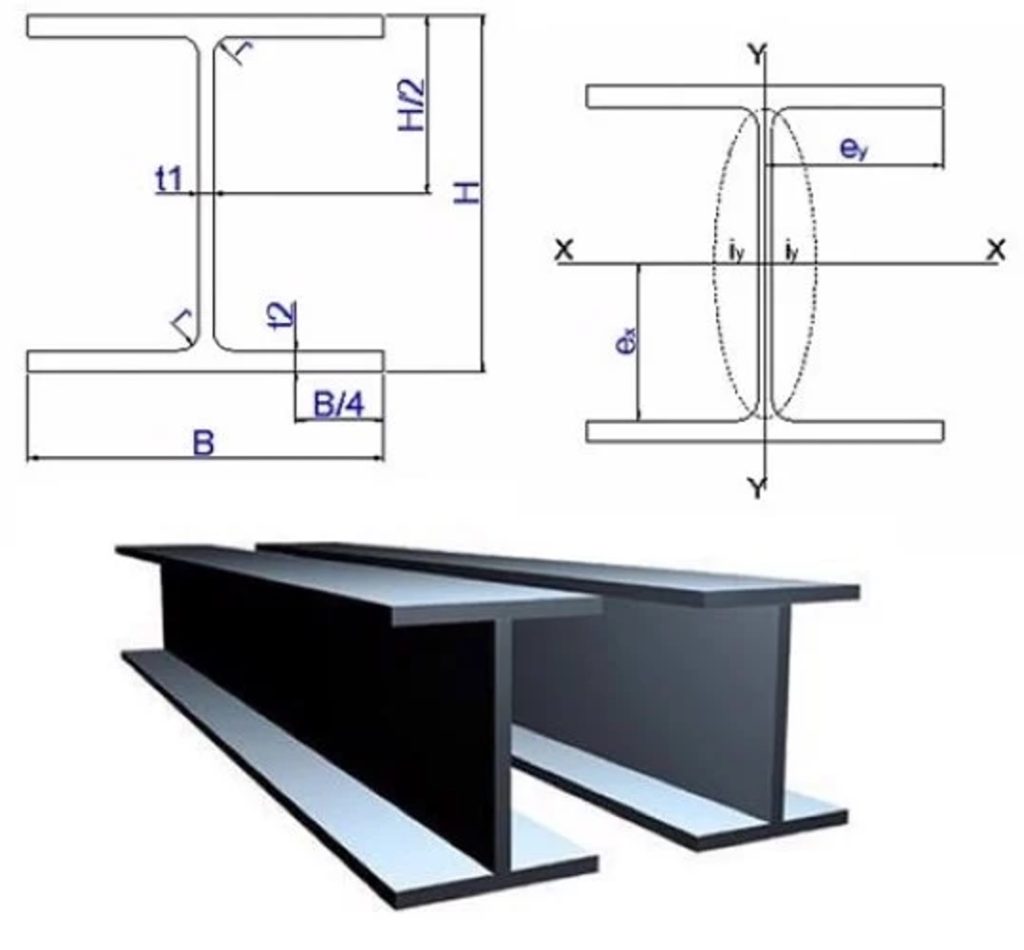 Specifications of the H200 section steel
This type of steel is H-shaped with a height of 200 mm and a thickness of 8 mm.
Both sides of the H200 section steel have a height of 200 mm and a thickness of 12 mm.
The length dimensions of the H200 section steel typically fall within the range of 6 meters or 12 meters per piece (the specifications of the H200 section steel may vary depending on user requirements or the manufacturing company).
Learn more: Table of Various I, C, U Steel Sections According to Vietnamese Standards

Tìm hiểu thêm: Table for Weight Calculation of H-I-U-V Shaped Steel – Latest Standard
What is H200 section steel used for?
H200 steel is constructed in the shape of an extremely sturdy H, with exceptional balance and a much higher load-bearing capacity than the I-beam. As a result, this product is highly popular and widely used in the construction industry, including road bridges, mechanical engineering, shipbuilding, workshops, pre-engineered structures, lifting, and cargo handling.
One of the most common applications of H200 steel in modern life is its use as building frames, foundation piles in workshops, and in various civil and industrial construction projects.
Moreover, in public infrastructure projects or state-funded constructions, H200 steel is also chosen for applications such as constructing road bridges, power transmission towers, high-voltage electricity infrastructure, railway stations, telecommunication towers, and transmission masts.
In the field of engineering, H200 steel is a primary choice for manufacturing truck frames, constructing mechanical vehicles, producing containers, and creating precision machine components that demand high strength and load-bearing capabilities.
Within the manufacturing sector, H200 steel is utilized to fabricate household tools, interior furniture, beds, cabinets, bookshelves, and display stands, among other versatile applications.
In general, H200 steel can be found in nearly all sectors surrounding us. Thus, the demand for acquiring this product is actively thriving in the market. Therefore, if someone among you intends to seek a reputable source to purchase H200 steel, please don't hesitate to contact our hotline at (+84)2471001868/(+84)975271499. Our highly experienced team at Stavian Industrial Metal is ready to provide accurate advice completely free of charge.
Learn more: What are 8mm steel rods? Weight and price information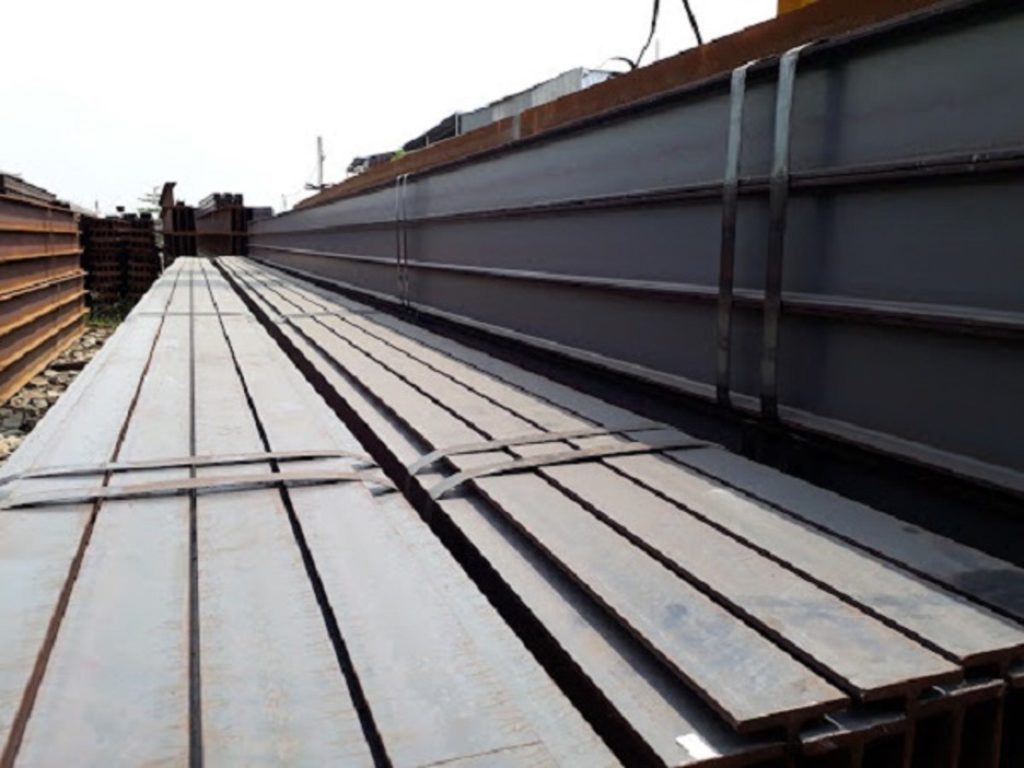 Steel grade and standards for H200 section steel
It is well-known that H200 section steel is not only vibrant in the domestic market but also highly favored in numerous countries around the world. Prominent among the renowned steel industries globally are Russia, Japan, China, the United States, and Europe.
Below is a reference table for steel grades and standards for your consideration:
| | |
| --- | --- |
| Steel grade | Standard |
| Russia (CT0, CT3) | GOST 380-88 |
| Japan | JIS G3101, G3106… SB410, G3114-04, G3115, G3136, 3010, G4051,  G3125, SS540. SMA490(A.B.C), SM400(A.B.C), SM490(A.B.C), SMA570,  SM520(B.C), SN400(A.B.C), SPAH |
| China | SS400, Q235A, Q235C, Q235D, Q235B,  Q245R/Q345R…. Q345B 15X , 20X,..AS40 / 45/ 50/ 60 / 70. AR400 / AR500 |
| USA (A36) | A570 GrD, A570 GrA,  A572 Gr42/50,… ASTM/ASME SA/A36, AH32/AH36, ASTM A283/285 |
| Europe | S355J0 / S355J2 / S355K2 /S275JR / S275J0 / S275J2 S355JR /  S235NL, St37-2, ST52-3 |
Calculating the weight of H200 steel
The formula for calculating the weight of H200 steel is:
Weight (Kg/m) = 0.785 x cross-sectional area
Where the cross-sectional area of the steel is calculated using the formula a = [ t1(H – 2t2) + 2Bt2 + 0.858r2 ] / 100 (cm²)
Weight of H200 steel profile = 49.9 kg/m ; 299.4 kg/6m length; 598.8 kg/12m length
Chemical and mechanical properties of the H200 section steel
H200 section steel price for reference
| | | |
| --- | --- | --- |
| Steel grade | Price/ 6 m piece | Price/ 12 m piece |
| H200 steel | 4.760.460 | 9.520.920 |
Notes on H200 section steel price:
The price of the H200 section steel includes a 10% VAT.
The quoted price also covers transportation costs.
Ensure that the H200 section steel is brand new, genuine, with assured quality, and accompanied by clear CO/CQ documentation.
We guarantee to provide the specified quantity with assured quality and deliver it to your location.
Red invoices are available.
Stavian Industrial Metal Joint Stock Company would like to inform our valued customers about the latest updated price of the H200 steel. However, please be aware that the mentioned price may change from the current time, potentially varying when you make a purchase or place an order…
Therefore, when you're interested in knowing the price to purchase H200 steel, feel free to contact us directly for the most detailed information.
Learn more: Information on I200 section steel
Stavian Industrial Metal – Your trusted source for authentic and affordable H200 steel
Within our country, the steel market is incredibly vibrant. As a result, there are currently numerous distributors offering H200 steel. This is quite evident, as the high demand has led to an increase in supply to meet the needs of all users.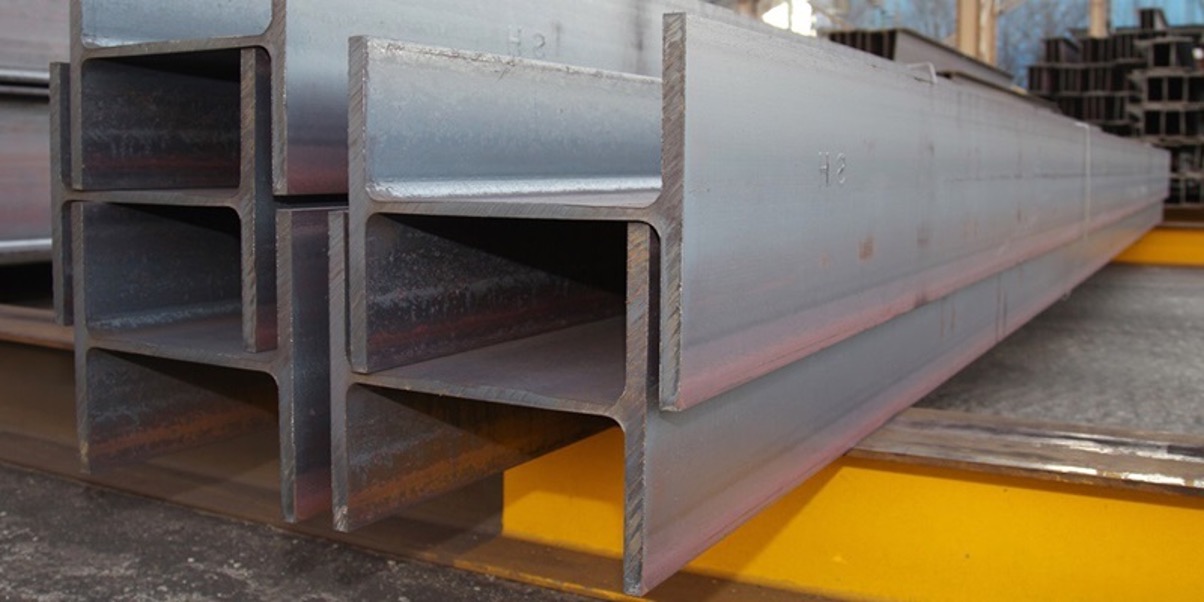 However, finding a trustworthy source that can provide the highest quality products to serve your construction needs is not an easy task.
As a company with years of experience in business and supplying top-quality building materials in Vietnam, Stavian Industrial Metal Corporation is proud to be one of the leading suppliers of genuine H200 steel products. We offer the best quality and highly competitive prices in the market.
In addition to offering a wide range of H-shaped steel in various sizes and types, we also introduce many commonly used materials on the current market, such as U-shaped steel, V-shaped steel, Z-shaped steel, C-shaped steel, steel plates, steel coils, concrete reinforcement steel, corrosion-resistant steel, and more.
Moreover, our company boasts an experienced team of highly skilled professionals who are dedicated to providing the most valuable information to all customers. Our staff is always ready to assist you, ensuring your satisfaction throughout the entire transaction process.
Here are the benefits and privileges of using our services:
You will receive a comprehensive and updated quotation based on your order quantity (including various discounts).
The H200 steel we provide is always genuine, fully labeled according to standard specifications from the factory.
We offer free doorstep delivery and on-site assistance with dismantling at the construction site, utilizing resources from small to large vehicles for transportation.
Various forms of compensation will be provided if there are any errors or defects in the products, maximizing customer rights and benefits.
Especially, when you choose us, you will enjoy special privileges, including substantial discounts on prices for large orders or long-term contracts.
Feel free to contact Stavian Industrial Metal's hotline today to have our experienced team assist you in providing expert advice on H200 steel and other types of steel, all at no cost to you!
For further information, please contact: