In today's advanced scientific and technological era, a wide variety of products made from aluminum have been developed, especially aluminum profiles. So, what exactly is aluminum profile, and what are its applications? Please join us in exploring some useful information that we share in the following article.
What is aluminum profile?
Aluminum profile is a type of aluminum material that has undergone modern processing techniques with the main purpose of optimizing aluminum's properties. This material is extruded and subjected to a heat treatment process, resulting in various complex deformations. Aluminum profile exhibits high corrosion resistance, durability, lightweight characteristics, and ease of mechanical processing. Aluminum profile profiles are commonly used in the production of doors and are integrated with various types of glass and different lock mechanisms.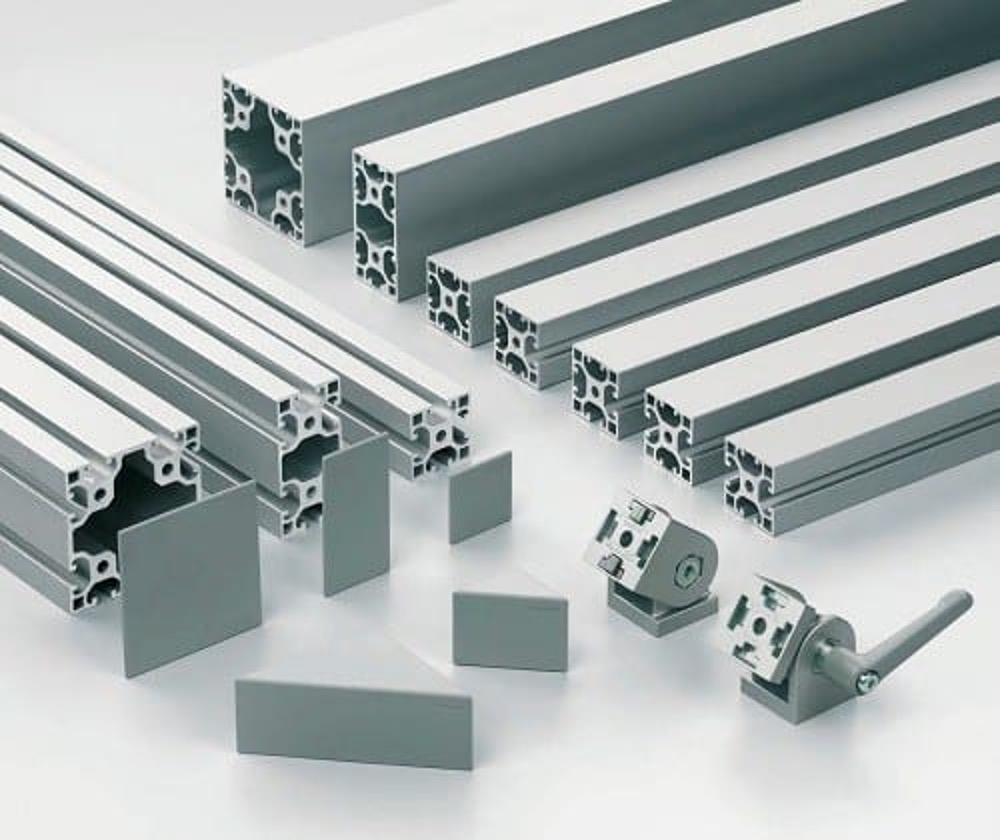 Advantages of Various Aluminum Profiles
Most types of aluminum profiles are highly regarded for their quality and stable performance. Some of the notable advantages of these products include:
Excellent Load-Bearing Capacity and Low Oxidation
One of the major advantages of shaped aluminum products is their use in constructing doors. They excel in load-bearing capacity and exhibit exceptional resistance to oxidation. Typically, during the extrusion process, aluminum profiles are composed of three primary layers: two layers of aluminum with a polymer layer in between. This manufacturing method enhances their load-bearing capacity and ensures efficient rainwater drainage.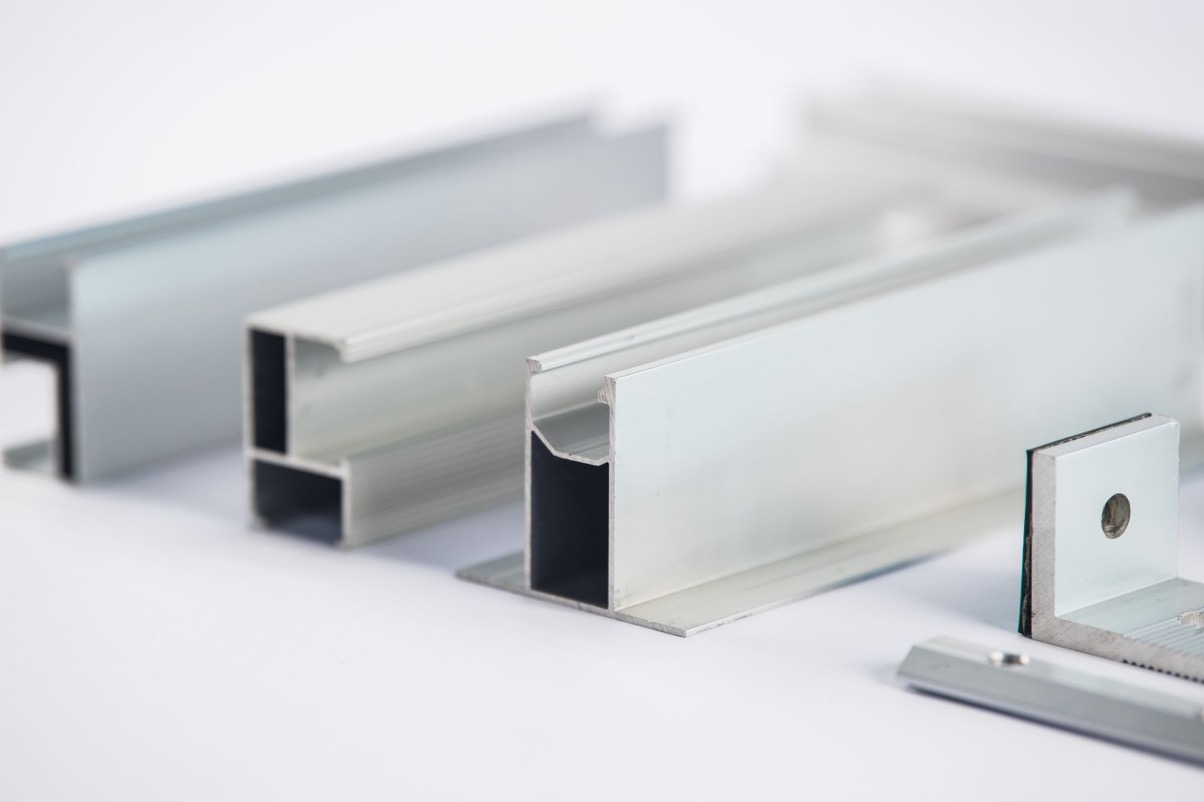 Excellent thermal and sound insulation, as well as waterproofing
Aluminum profiles used for designing doors are made from pure aluminum profiles combined with EPDM gaskets. Thanks to this combination, they offer a high level of sealing, making them effective in soundproofing, thermal insulation, and waterproofing.
As a result, these doors can meet the needs of various projects, whether indoors or outdoors, without being affected by harsh weather conditions.
Cost-efficiency
Utilizing various types of aluminum profiles also minimizes cost, effort, and usage time. Users only need to install them once and can use them for a lifespan of 20 to 30 years without worrying about warping, termites, or corrosion.
Moreover, during usage, you won't need to spend time on extensive cleaning. Occasionally, simply using a cloth to quickly wipe away any dirt or stains will suffice.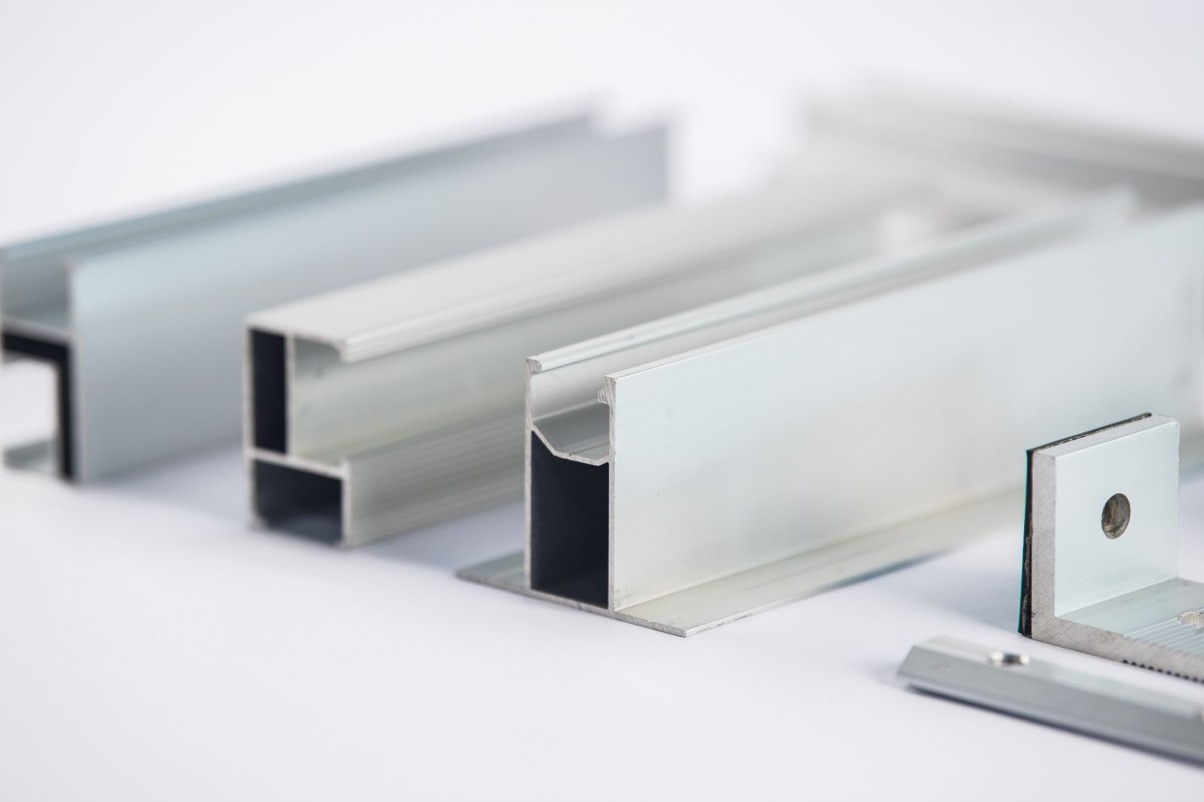 Lightweight load capacity
Not only do aluminum profiles possess the advantages mentioned above, but their most significant benefit is their relatively lightweight. Consequently, transportation and handling become easier, resulting in reduced costs.
Characteristics of aluminum profile
As one of the special materials, aluminum profiles possess outstanding characteristics such as: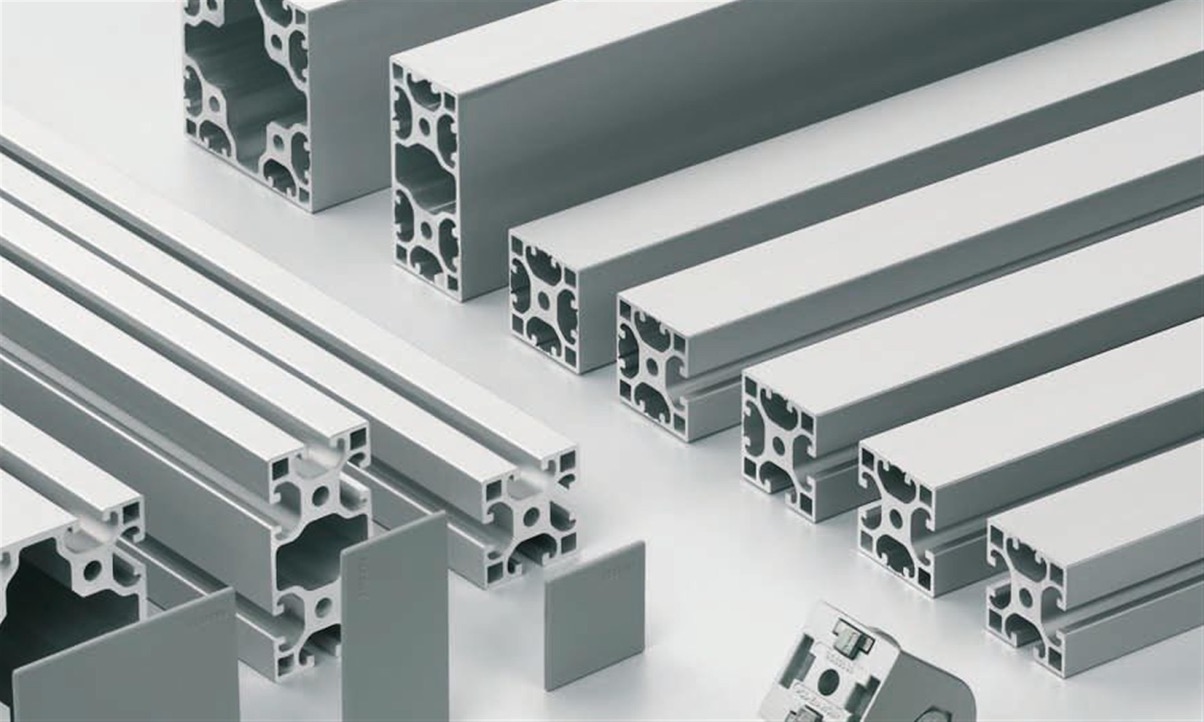 Hardness
Aluminum profile currently mainly consists of two common hardness levels: T5 and T6.
Among them, T5 typically achieves a hardness level of 8 – 12 on the Wechsler scale, while T6 reaches a hardness level of approximately 13.5 Wechsler.
For these two hardness levels, aluminum profiles are increasingly strengthened, resulting in enhanced rigidity and optimal durability. Consequently, this contributes to ensuring that all aluminum products, once completed, possess the longest lifespan and durability. They meet key criteria of durability and modernity to serve various construction projects effectively.
Aluminum thickness
In addition to the incorporation of technology to enhance hardness, the thickness of aluminum profiles is also a crucial factor in supporting the rigidity of this material. Currently, the thickness of aluminum profiles varies widely with various applications from different brands, offering maximum flexibility to meet user needs.
The most common aluminum profile thickness today ranges from approximately 0.9mm to 2mm. Depending on the position and purpose of use, individuals should consider selecting the appropriate thickness.
Surface treatment technology
Aluminum profiles typically undergoes two surface treatment technologies: Electroplating and electrostatic painting (anodizing and powder coating).
When aluminum profile is subjected to the Anodized electroplating technology, the robustness of aluminum can achieve a lifespan of up to 20 years. This results in optimal long-term color finesse.
On the other hand, with electrostatic painting technology, a perfectly anti-oxidation layer is formed on the aluminum surface. This helps the aluminum product effectively resist fading or yellowing after prolonged use.
Current standards for shaped aluminum
The standard level for aluminum profile is determined in construction based on detailed structural criteria such as: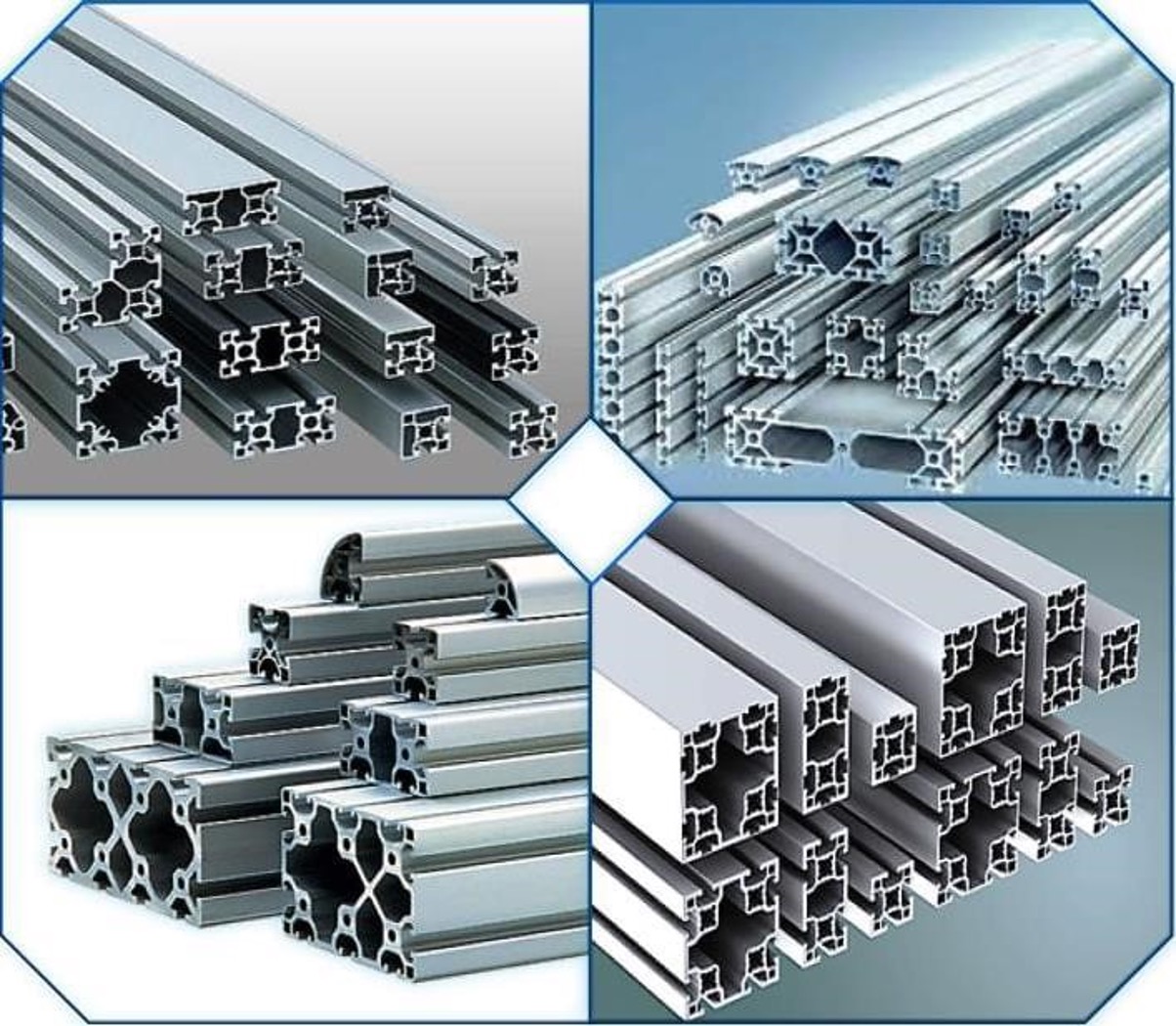 For various types of aluminum profiles and aluminum alloy bars processed in the form of rods, tubes, and shaped products, they must adhere to the relevant standards, such as TCVN 12513-1:2018.
Regarding the aluminum profiles commonly used in construction, they need to meet the technical requirements and pass the detailed output inspection method based on the TCXDVN 330:2004 standard.
In this regard, several standards are used as the basis for evaluating the compliance of shaped aluminum bars according to QCVN 16:2019/BXD. The standards commonly used as reference documents include:
1. TCVN 12513-1:2018, Aluminum and Aluminum Alloy Pressure Processing – Rods, Tubes, and Shaped Extruded Products.
2. TCVN 12513-2:2018, Aluminum and Aluminum Alloy Pressure Processing – Rods, Tubes, and Shaped Extruded Products.
3. TCVN 12513-7:2018, Aluminum and Aluminum Alloy Pressure Processing – Rods, Tubes, and Shaped Extruded Products.
Obtaining certification of compliance with these standards for construction materials is mandatory to circulate products nationwide.
Therefore, manufacturers and businesses dealing with construction products and materials must prepare all the required documentation to prove compliance with the state's regulations. Only when they have all the necessary documents can these products be circulated and used in the current construction industry.
The aluminum shaping process according to standards
To produce high-quality aluminum profiles, several steps must be followed, including:
1. Strictly inspect the quality of the materials.
2. Execute the production process according to the established standards.
3. Perform quality checks on the finished products to ensure they meet the standards.
After completing these inspection steps, the aluminum profiles can be labeled, packaged, and made available for the consumer market. The detailed steps of the aluminum shaping production process are as follows: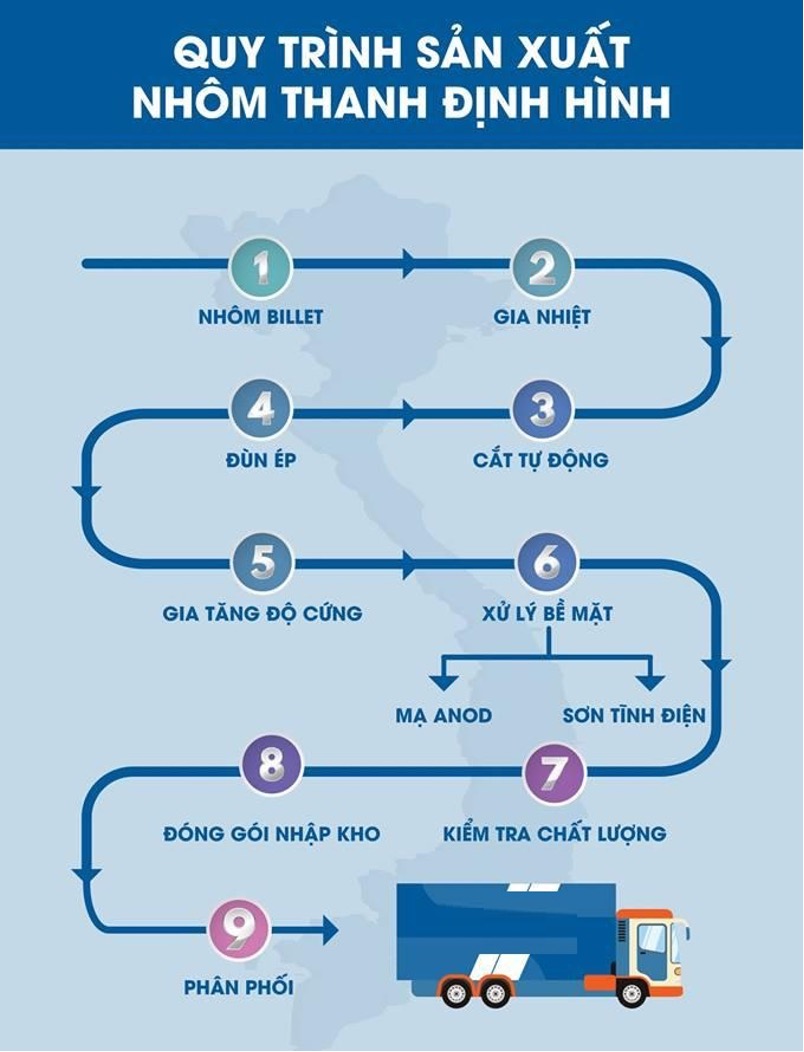 Step 1: Initiating Raw Material Intake (Aluminum Blanks)
The initial material, when received, typically comes in a raw form and is commonly referred to as aluminum blanks. These blanks are primarily aluminum alloys, combined with other elements such as silicon, magnesium, manganese, copper, and tin.
Step 2: Quality check of aluminum before heating
The alloys used in shaping aluminum bars are mainly aluminum 6063 and 6061. These materials are primarily imported from countries like Malaysia, Thailand, and Australia. Upon arrival, the aluminum blanks undergo a rigorous quality check involving testing for properties like boron, titanium, and homogenization through defect detection equipment. This step is essential to categorize the aluminum blanks as suitable or unsuitable for the production of high-quality aluminum profiles.
Step 3: Commencing the aluminum profile design
Aluminum profiles from Aluminum Dong A are created through dedicated product lines managed by a team of professional engineers. These artisans continuously explore and strive for innovation to deliver premium aluminum door designs that meet all current consumer needs. The design of the aluminum profiles must meet quality, safety, and material standards to ensure their suitability for use.
Step 4: Mold inspection
The molds used in industrial aluminum shaping must adhere to the exact specifications outlined in the standards. These molds ensure the safest possible casting process and prioritize heat resistance. Extracting aluminum bars from the molds should be effortless and convenient.
Step 5: Aluminum extrusion
After analyzing the aluminum blanks and confirming that they meet the required metal composition, they are sent to a hot cutting machine. The machine, with a temperature range of approximately 430 – 450 degrees Celsius, cuts the blanks into segments of the desired length for various applications.
Before extrusion, the mold should be checked to ensure it matches the desired pattern. Depending on specific needs and purposes, different mold sizes and designs may be used. Temperature consistency is a critical factor and is prioritized during the extrusion process. Furthermore, removing the aluminum bars from the mold after extrusion should be as easy and convenient as possible.
During this process, the pure aluminum blanks are melted at temperatures around 600 degrees Celsius. The molten material is poured into the molds to shape the aluminum. This method ensures uniformity and stability in the final product's structural integrity.
Step 6: Post-extrusion component check
After casting, the aluminum blanks undergo an analysis of their internal metal components. If they meet the requirements, they are cut into smaller sections that best fit the specifications. These sections are then heat-treated and transferred to the extrusion machine to produce aluminum profile according to predefined designs.
Step 7: Hardness treatment
Aluminum profiles typically have relatively soft properties after extrusion. They are then placed in aging ovens for approximately 4 hours at temperatures ranging from 180 to 220 degrees Celsius. The process is adjusted based on specific product requirements to achieve hardness levels ranging from 10 to 15 HW.
Step 8: Surface treatment
Aluminum blanks meeting material and hardness standards undergo surface treatment, typically involving the application of electrostatic powder coating. Subsequently, they are immersed in paint tanks for the dyeing process.
For surface-treated aluminum profiles, certain criteria must be met, including a smooth, blemish-free surface finish, and color consistency matching the original design.
Step 9: Inspection
The quality of the products is crucial in determining whether the industrial process for shaping aluminum bars adheres to the standards. Rigorous quality checks are conducted, focusing on factors such as color, quality, and durability. Products that do not meet the standards, exhibiting issues such as color deviation, damage, or casting inaccuracies, are removed.
All products are carefully evaluated and undergo these criteria: color, quality, and durability. Products that fail to meet the standards are typically removed when issues like color inconsistency, damage, or casting inaccuracies are encountered.
After the inspection and assessment process is completed, all products are stored in the factory warehouse before being packaged and distributed to the market.
Applications of aluminum profile in daily life
The processing of aluminum profile has now become a familiar material for all consumers due to its high level of convenience.
Consumers can find this type of material widely applied in various projects, both in residential and industrial settings. It can be said that aluminum profiles are of great value in contributing to our daily lives. Examples include: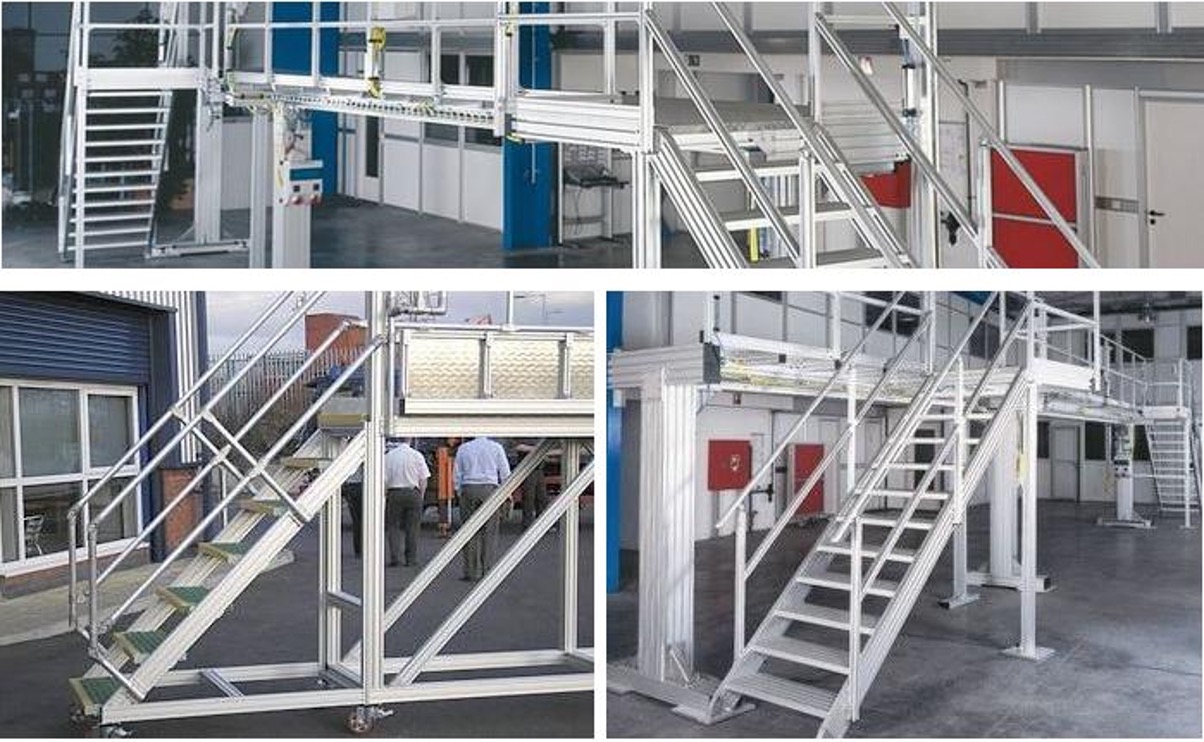 In construction
Almost all contemporary architectural projects prioritize the use of shaped aluminum products due to their remarkable advantages, not only in terms of technical aspects but also aesthetics.
Aluminum profiles are primarily used for facades, ceilings, staircases, roofs, walls, door frames, curtain walls, decorative panels, and more. They are widely employed in the construction of office buildings, shopping centers, sports stadiums, and various other structures.
In industry
Aluminum is an essential material extensively applied in various industries for many years. Specific applications include:
Mechanical Engineering: Conveyor belts, CNC machine frames, storage racks, and heat sinks.
Energy Industry: Wind turbine towers, solar panel frames.
Transportation Industry: Vehicle steps, trucks, traffic signal poles, and exhaust systems.
Due to its safety properties when used in industrial applications, all standards for aluminum frames must ensure the highest quality and precision.
In consumer goods
In daily life, aluminum profile is often used to create various products that serve practical purposes, such as wall-mounted shelves, ladders, beds, display cabinets, curtain rods, aluminum furniture, awnings, and more.
Moreover, aluminum profiles are commonly used to assemble large LED screens. LED screens are not limited by size, thanks in part to the versatility of shaped aluminum frames, which can be customized to the desired dimensions.
Architectural applications
Because the cost of aluminum profile is typically not prohibitively high, it is widely used in the fields of construction and interior design, bringing about creativity and sophistication.
Most construction projects choose this material for exterior facades, ceilings, door frames, curtain walls, and interior furnishings due to its outstanding characteristics, including resistance to wind pressure, flexibility, resistance to deformation, oxidation resistance, and resistance to corrosion over time.
Common specifications of aluminum profile used today
Many users highly favor the convenience and cost-effectiveness of aluminum profile. To learn more about the commonly applied products in the market, let's explore the following sections.
30*30 aluminum profile
The 30×30 aluminum profile is commonly used in various fields, including:
Machinery frames
Automation equipment
Conveyor belts
Industrial shelving
Assembly of conveyor systems
Setting up laboratory equipment, cleanrooms, educational equipment, and more
Construction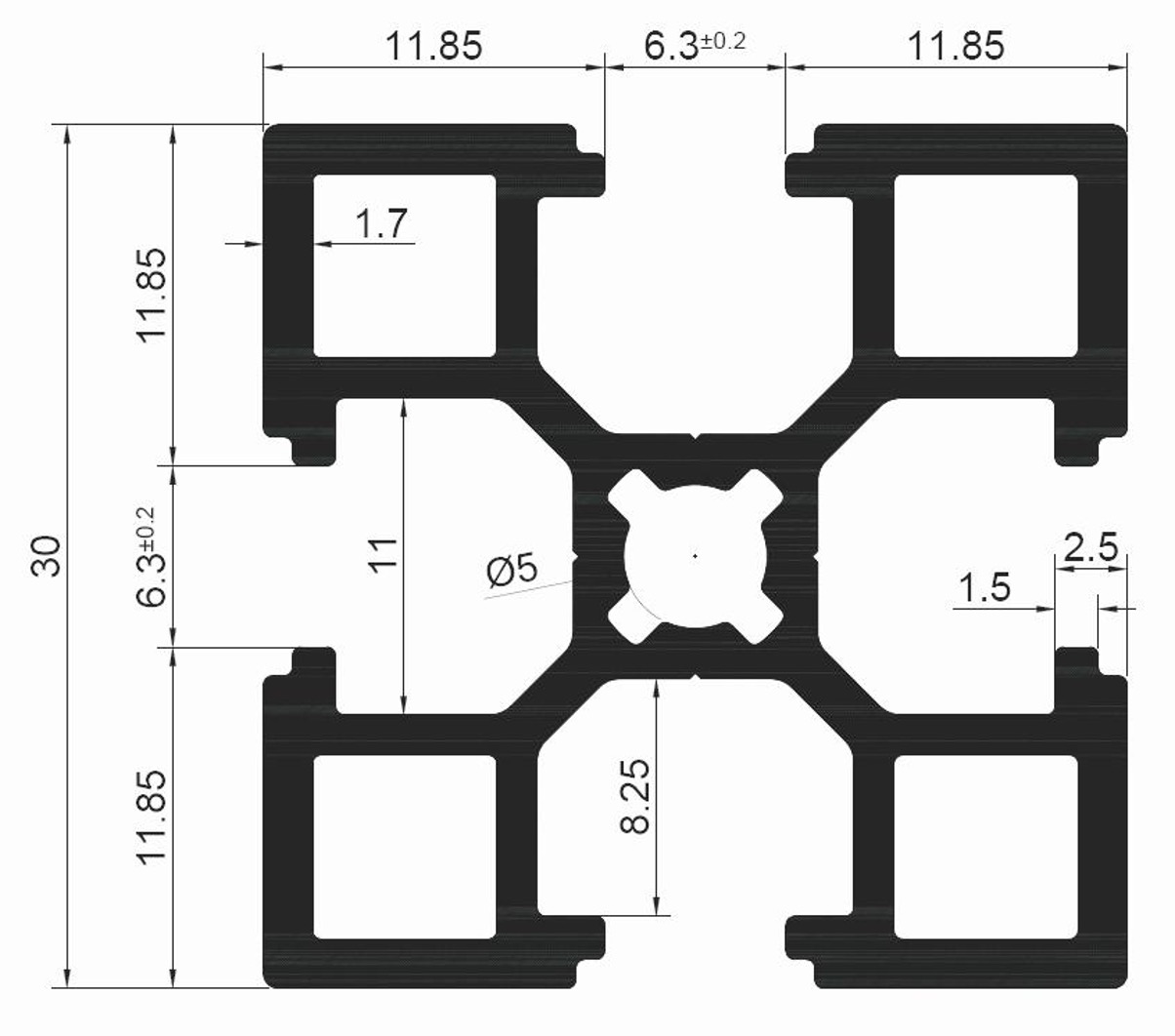 Advantages of 30×30 shaped aluminum profiles
The 30×30 shaped aluminum profiles have distinct advantages, which include:
Excellent load-bearing capacity during assembly.
Environmentally safe, non-harmful to the surrounding environment.
Compatible with and can be combined with various other materials.
Thông số kỹ thuậtTechnical specifications
The technical specifications of 30×30 shaped aluminum profiles are as follows:
Dimensions: 30 x 30mm
Length of the aluminum profile: 6.02m
Weight: 1.15 kg/m
Aluminum grade: A6063-T5
Surface finish: White silver anodized
60×60 shaped aluminum profiles
60×60 shaped aluminum profiles are widely used today. They have relatively large dimensions and are commonly applied in the construction of frames or load-bearing structures that require strength.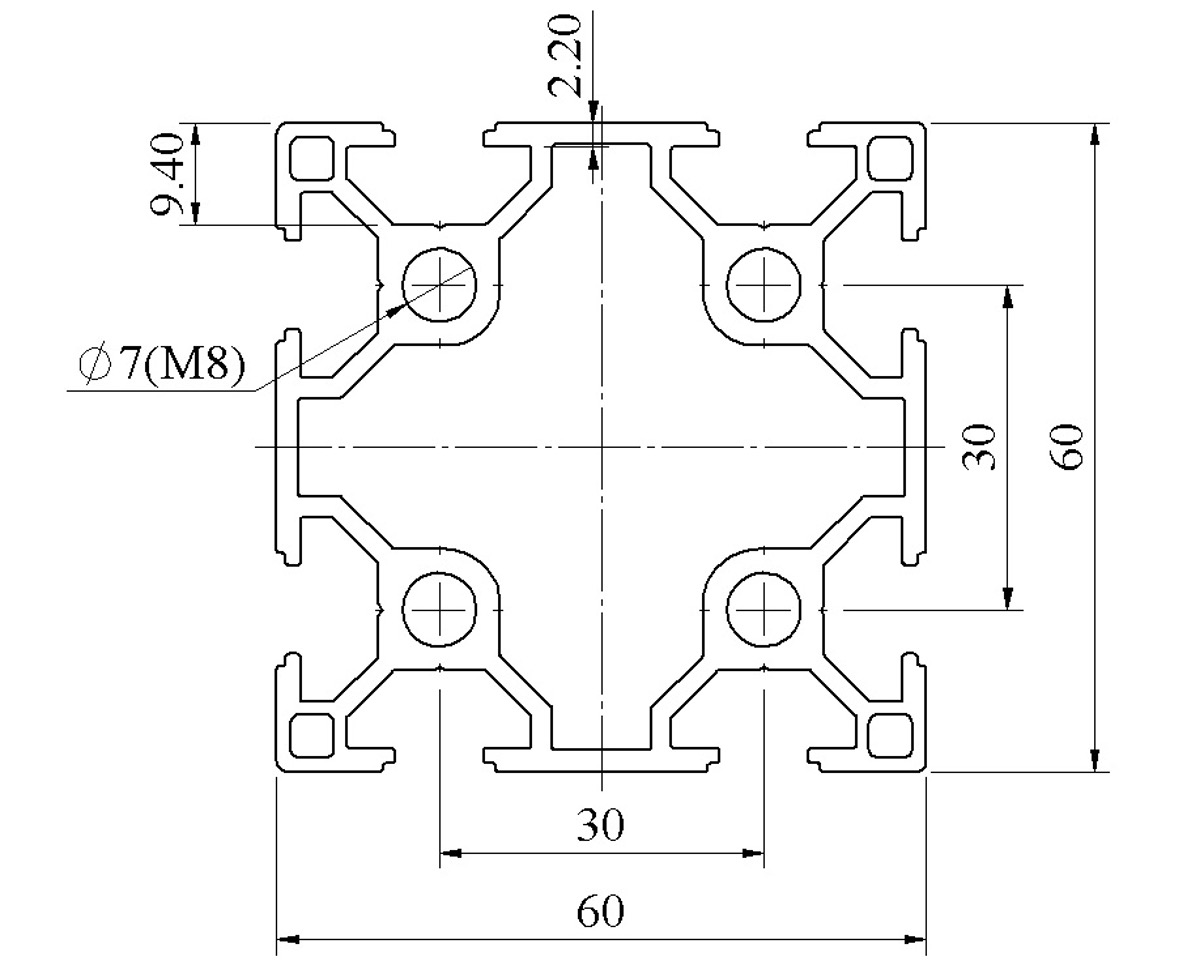 Advantages of 60×60 shaped aluminum profiles
These products come with numerous outstanding advantages, such as:
Excellent load-bearing capacity.
Suitable for installation in all projects that require strong load-bearing capability.
Safe to use and environmentally friendly.
Easily combinable and compatible with various types of locks and fasteners.
Technical specifications
The technical specifications of 60×60 shaped aluminum profiles are as follows:
Dimensions: 60 x 60mm
Length of the aluminum profile: 6.02 meters
Weight: 3.2 kg/m
Aluminum grade: 6063 – T5
Surface finish: White silver anodized
20×40 shaped aluminum profiles
20×40 shaped aluminum profiles are mainly used in laboratories or for acrylic glass doors.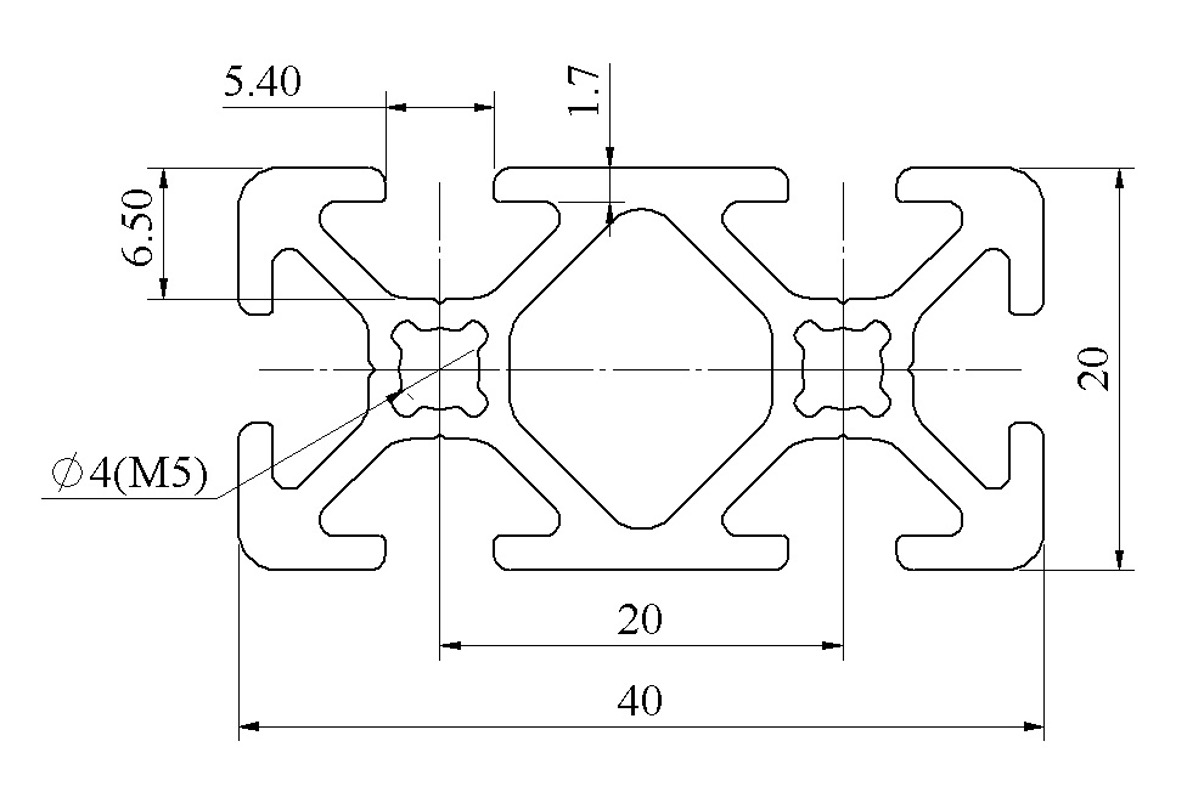 Advantages of 20×40 shaped aluminum profiles
These products possess several outstanding advantages, as follows:
Excellent load-bearing capacity.
Non-toxic to users or the surrounding environment.
Easy to install or combine with various other materials.
Detailed technical specifications:
Dimensions: 20 x 40mm
Length of the aluminum profile: 6.02 meters
Weight: 1.18 Kg/m
Aluminum grade: 6063 – T5
Surface finish: White silver anodized
Latest aluminum profile price list
The prices of aluminum profiles on the market today vary widely. The cost depends on factors such as the thickness or thinness of the aluminum, its length, or the specific aluminum system used in the design.
However, for products from reputable brands that have clear composition, free from impurities, and made from high-quality aluminum alloys, these are the standards for quality.
Here is an updated price list of aluminum profiles in 2023 for your reference:
| | | |
| --- | --- | --- |
| No | Size | Quotation |
| 1 | 40×80 aluminum profile | 210.000VNĐ |
| 2 | 40×40 aluminum profile | 140.000VNĐ |
| 3 | 30×60 aluminum profile | 150.000VNĐ |
| 4 | 30×30 aluminum profile | 90.000VNĐ |
| 5 | 20×40 aluminum profile | 100.000VNĐ |
| 6 | 20×20 aluminum profile | 70.000VNĐ |
Please note: The quoted prices for aluminum profiles here may change over time and depending on the quantity. Please contact Stavian for the most accurate pricing.
Therefore, for the price of high-quality aluminum profiles with specific composition, it typically tends to be higher compared to the types of aluminum with unclear origins currently available on the market.
In the event that customers want to purchase aluminum profiles or any aluminum products, it is advisable to compare prices from various business establishments and manufacturing brands to fully understand and make the wisest choice.
At Stavian Industrial Metal, the prices of aluminum profiles are always reasonable and competitive in the market. To get precise pricing for each product type, please contact our hotline at: (+84)2471001868 or (+84)975271499. We are always ready to address any customer inquiries regarding pricing, quality, and product details in the most detailed manner.
Stavian Industrial Metal – Your reliable source for quality aluminum profiles in Vietnam
Due to the increasing demand for shaped aluminum frames in the market, there are many distributors offering this type of product. However, not all of them can guarantee genuine, reputable, and high-quality products.
To avoid purchasing low-quality aluminum profiles at unreasonable prices, consumers should prioritize choosing suppliers with a track record of safety, such as Stavian Industrial Metal.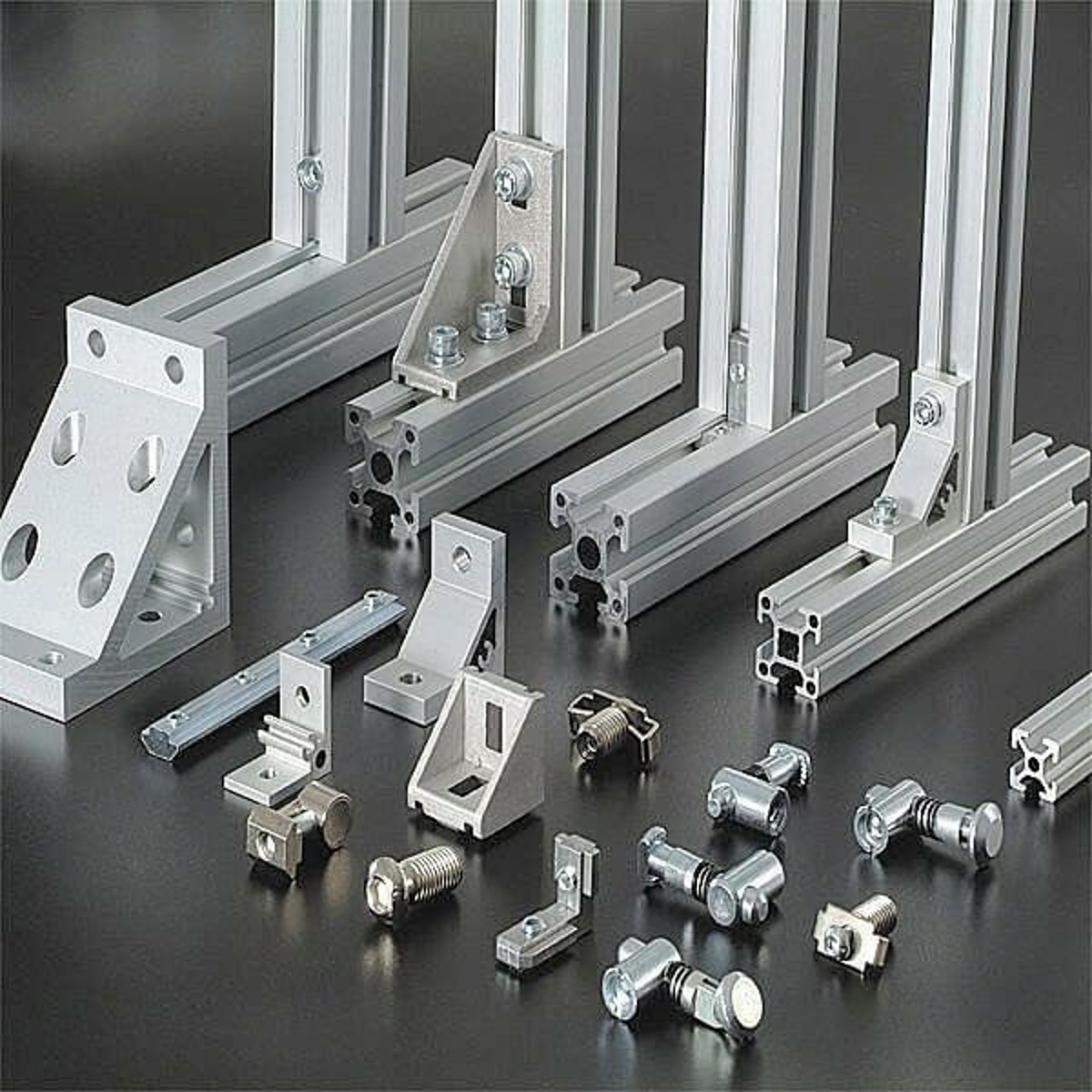 Stavian Industrial Metal is a leading supplier of aluminum profiles in Vietnam with many years of experience in this field. Here, we provide customers with a wide range of high-quality shaped aluminum profiles, ensuring practical benefits for consumers.
We ensure product quality that meets European standards and certifications.
We offer a diverse range of shaped aluminum profiles with beautiful and modern designs.
Our products are of superior quality with high hardness, resistant to bending, rust, and pests in any harsh weather conditions.
They have excellent soundproofing and insulation properties.
Our products are easy to transport to various locations and competitively priced.
We provide reasonable warranty policies and discounts for all customers.
Conclusion
The above information provides details about the type of aluminum profiles that are currently in demand. If you have any questions or need to purchase high-quality aluminum profiles at competitive prices, please feel free to contact us through the following information: